Die Grenze (Erevan)


Where does Asia begin, where does Europe end? Where does Asia end, where does Europe begin?
The travelling exhibition The Border [Die Grenze] explores and reflects the geographical and cultural border between Europe and Asia. The project approaches this topic from an artistic standpoint and directs its gaze beyond a purely political and economic perspective to include cultural, artistic, personal or even humorous dimensions.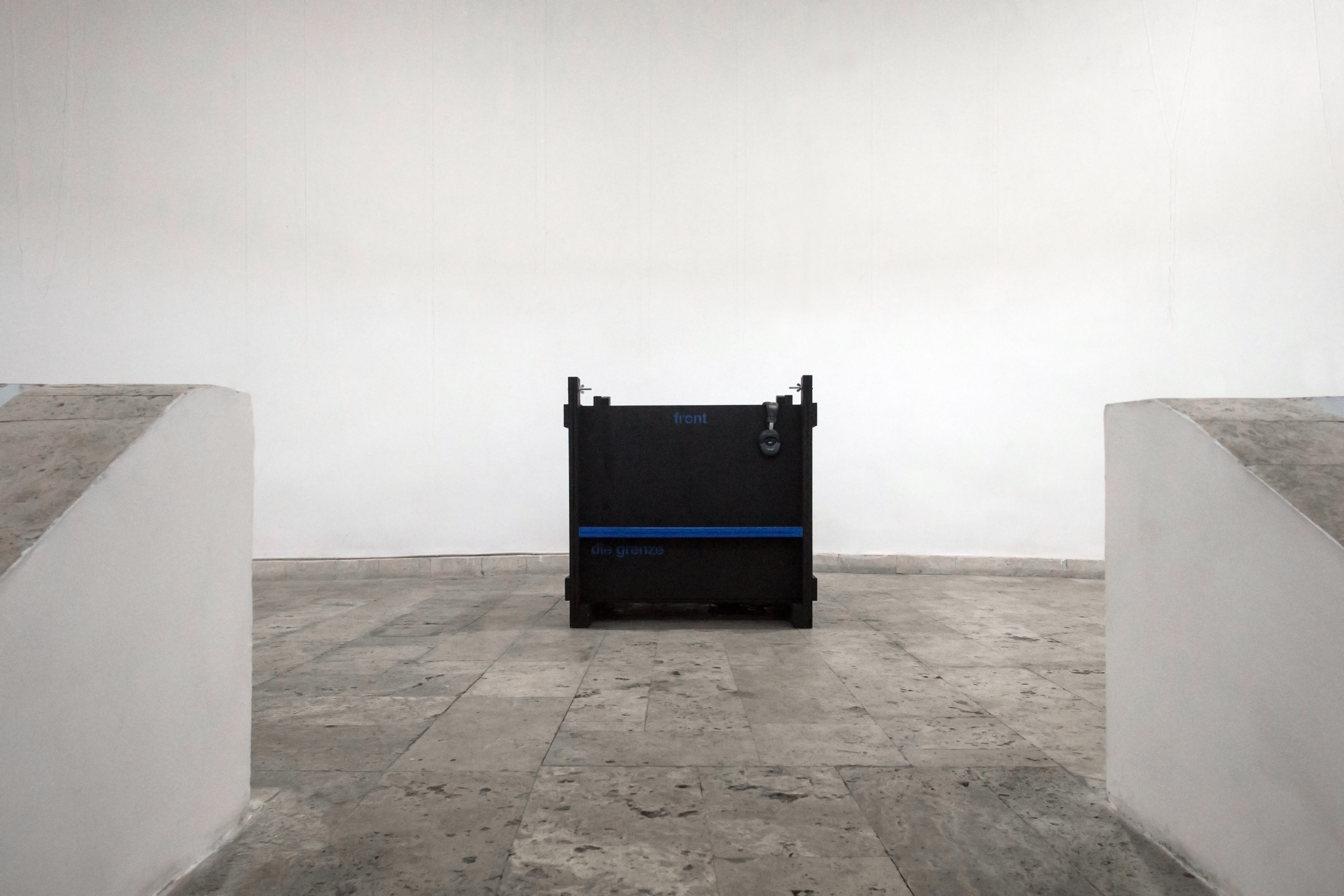 A younger generation of artists has been commissioned to create new artworks and will present their reflections and insights in a traveling exhibition in Eastern Europe, Russia, Central Asia, and Germany, accompanied by local events with local actors and German partners.




Oksana Budulak: The theme of the border in the former Soviet-Union can be understood and developed in many different ways. How did you come up with your vision of it, this story about Asia and Europe?
Thibaut de Ruyter: At a certain point, we came across a serious problem in our research trips: what unites cities like Saint Petersburg and Dushanbe, Minsk and Vladivostok, Baku and Novosibirsk (to mention just a few)? There was an obvious common theme: the Soviet Union, but there had already been a lot of exhibitions devoted to this subject. And we did not want to study the past once again, we wanted to look into the future. When we were researching in Yekaterinburg we were being accompanied by a very charming, very "Soviet" woman from the Goethe-Institut. Once she told us: « You know, I'm living in Asia, but my dacha is in Europe. » We felt pretty surprised: is Yekaterinburg an Asian city?
It is not what you imagine when you think about Asia. This phrase made us ask ourselves: what does that border mean? Of course the Ural River and the Mountains are recognized as a geographical border line and we started to study that line – it could be drawn in millions of ways, it could be regarded as a geographic, historical, cultural or political border. It begins somewhere in the north of Russia, then runs across Central Asia (with a tiny part of Kazakhstan in Europe), it passes through the Caucasus and ends in Turkey. It became a kind of Ariadne's thread for us and for that vast territory.
Our goal was not to draw this border, but to ask questions about it. It is remarkable that many artists never mentioned that they were working in Asia or in Europe. And thus it became our theme.

OB: The exhibition has an unusual design, which consists of black wooden boxes. What is your concept?
TdR: After Moscow, the exhibition will travel to Krasnoyarsk, Saint Petersburg, the Caucasus, Ukraine, Germany, Kazakhstan and so on. The tour will continue for two years. As both curator and exhibition's architect, I had to ask myself: How can I make arrangements for an exhibition if I don't know where we will install it? Some city may provide a large room for it, other – a small one, some museum may have windows, others – not. But in any case we need to transport exhibits, so we need transport boxes! And I came to this idea – a transportation box which is not at all simple, which opens, folds, unfolds, contains technique or exhibits and stays in the exhibition space as pedestal, tiny cinema or colored floor. We discussed it with each of the artists, and I developed a principle, a template. But each time it has a unique design for every single artist and artwork.




Anastasiya Petrakova: There are quite a few works focusing on the issues of identity. Such kind of art has been attacked so many times by art critics from different standpoints. While you were working on the exhibition, did you consider any criticism of the art focusing on identity?
TdR: The first time I have heard the word 'identity' in art conversations was when I was working on the ALUAN magazine in Kazakhstan. The word 'identity' was on everyone's lips. But the art critic Alexey Ulko once said to me: 'I cannot hear the word "identity" anymore!' Certainly, all the works in this exhibition are associated with a search for identity, but if we go to the Musée National d'Art Moderne in Paris, should we talk about French identity? I think that word has been often used because it's an easy way to speak, to write, to argue, without looking at the reality of the artworks and what the artists do. It's kind of an empty word…

AP: I have noticed that many artists in the exhibition often refer to motives embedded in their national culture: costumes, everyday life items, customs, in general, to their roots. How does this relate to 'the vision of future' you mentioned before?
TR: It may be a little upsetting, but I suspect that the future of these countries is — at the moment — completely buried in national traditions. People in these countries are peering into their origins and examining their national histories to find roots. Many of them do not wish to go 'beyond the borders,' either formally or figuratively. But at the same time, many artists in the exhibition are already active at an international level, they use means and medias that are globalized, they produce an art that functions in different contexts. So, even if they are rooted in local traditions, at the end, they tell us something about the world.


Die Grenze
Hay Art Center, Erevan (Armenia)
May 17 — June 17, 2019
Curated by Thibaut de Ruyter & Inke Arns

Exhibition architecture: Thibaut de Ruyter (with the assistance of Camille Rouaud)
Technical direction: Karola Matschke
Organized by Goethe-Institut Moscow, supported by the German Ministry of Foreign Affairs

Artists: Umida Ahmedova & Oleg Karpov, Alisa Berger, Aytegin Djumailiev, Natalya Dyu, Saule Dyussenbina, Farhad Farzaliyev, Hamlet Hovsepian, Katya Isaeva, Olga Jitlina + Anna Tereshkina, Anton Karmanov, Khinkali Juice, Alina Kopytsa, Gaisha Madanova, Taus Makhatcheva, Eleonore de Montesquiou, Stanislaw Mucha, Marat Raiymkulov, Alla Rumyantseva & Alexey Rumyantsev, Sergey Shabohin, Alexander Ugay, Viron Erol Vert, Where Dogs Run, Anastasiia Zhyvkova.