A Song for Europe

A Song for Europe is an exhibition using music and poetry to create a 90 minutes soundtrack. The visitors are invited to take a poster where the 16 tracks are listed but also represented as QR-codes that will bring them directly to the Internet for e.g. a live version of Roxy Music's Song for Europe (1973) where Brian Ferry wears a beautiful red suit, the digital library of the University of Pennsylvania or a Russian website collecting songs and their lyrics. The exhibition exists also as a performance where the tracks are played in a specific order.


- Holly Johnson, Europa (Spoken Word), 2014
- Kraftwerk, Europe Endless, 1977
- Steve Reich, Different Trains: Europe During the War, 1989
- Asia, Countdown to Zero, 1985
- David Sylvian, Café Europa, 1999
- Phantom/Ghost, My Secret Europe (Piano Version), 2003
- Kate Tempest, Europe Is Lost, 2016
- Allen Ginsberg, Europe! Europe!, 1959
- Serge Teyssot-Gay - Georges Hyvernaud, Leur Europe, 2000
- Nena, Das Land der Elefanten, 1984
- Randy Newman, Political Science, 1972
- Gianna Nannini, Ragazzo dell'Europa, 1983
- Europe, The Final Countdown, 1986
- Noir Désir, L'Europe, 2001
- Max Richter, Europe, After The Rain, 2002
- Roxy Music, A Song for Europe, 1973




The poster — to be be considered as the exhibition's space — is designed by Büro Otto Sauhaus in a close collaboration with the curator.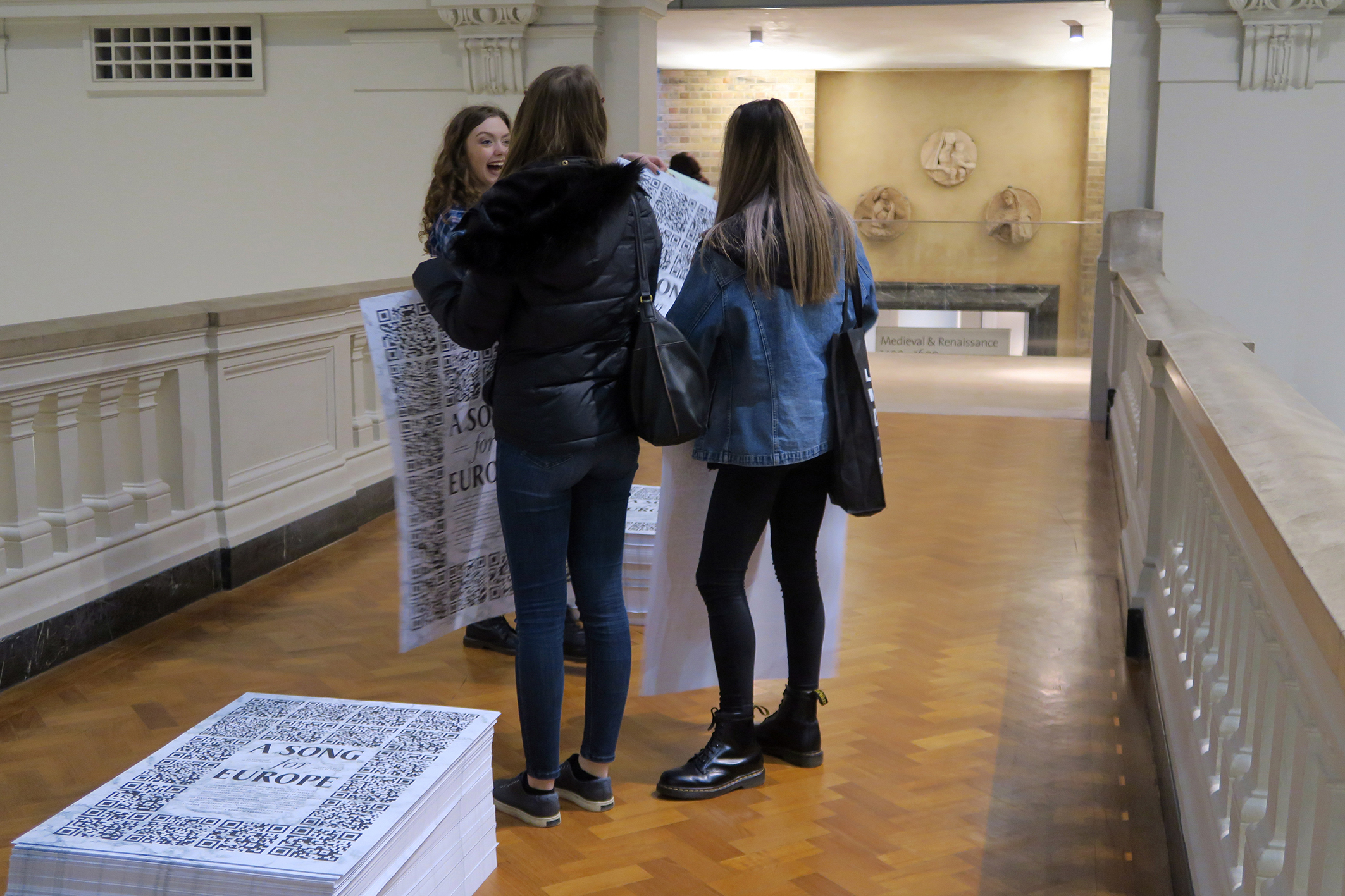 A Song for Europe
Victoria & Albert Museum, London (United Kingdom)
February 1 — 7, 2017
Curated by Thibaut de Ruyter

Designed by Büro Otto Sauhaus in Berlin.
Commissioned for Collecting Europe by the V&A and the Goethe-Institut in London.